Externally Geared Slew Ring (Bearing, Slewing Ring)
D'Angelo Engineering supply high quality steel slew rings from 300mm up to 6m in diameter. All of them are made to strict International Standards and across the board suit 90% of available pinion sizes.
The vast majority of D'Angelo slew rings are of a round ball (ball bearing) design. D'Angelo Engineering believe this to be a superior engineering solution as it maintains an even load through 360º and there are no flat points to indent the ballrace. This design also generates less wear than cross roller style slew rings, and together with the hot rolled steel they are made from, makes D'Angelo Engineering's slew rings rank high among the strongest and most reliable on the market.
Features
20mm Ball Diameter
XC45 Hot Rolled Steel
Treated Track
Four Grease Nipples and 1/8 Gas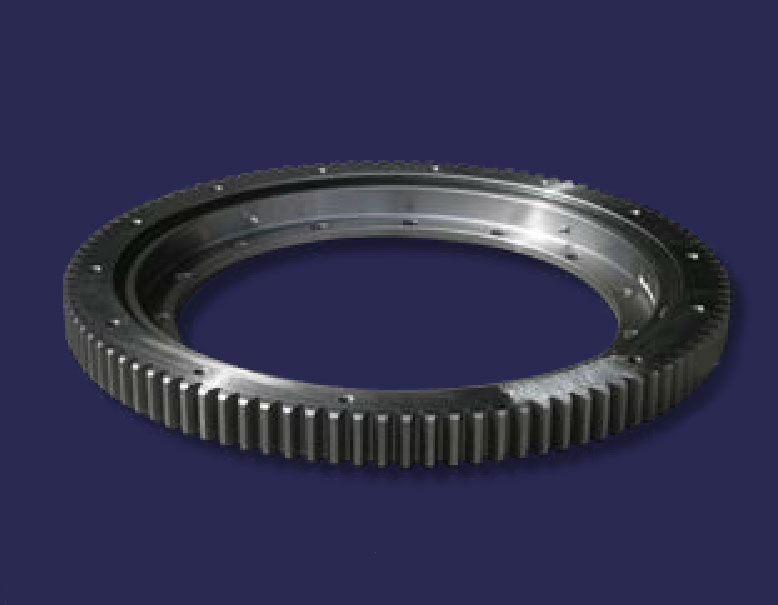 | | | | | | | | | | | | | | | | | |
| --- | --- | --- | --- | --- | --- | --- | --- | --- | --- | --- | --- | --- | --- | --- | --- | --- |
| Part No. | Da | T | m | z | La | na | U | D | B | C | Li | ni | Di | T nor | T max | W |
| SRE50520C | 505 | 495 | 5 | 99 | 455 | 10 | 415.5 | 375 | – | 412.5 | 332 | 10 | 304 | 1080 | 2160 | 29 |
| SRE62020C | 642 | 630 | 6 | 105 | 585 | 14 | 545.5 | 505 | – | 542.5 | 462 | 14 | 434 | 1300 | 2600 | 40 |
| SRE75020C | 744 | 732 | 6 | 122 | 685 | 16 | 645.5 | 605 | – | 642.5 | 562 | 16 | 534 | 1300 | 2600 | 47 |
| SRE85020C | 840 | 828 | 6 | 138 | 785 | 18 | 745.5 | 705 | – | 742.5 | 662 | 18 | 634 | 1310 | 2620 | 53 |
| SRE95020C | 952 | 936 | 8 | 117 | 885 | 18 | 845.5 | 805 | – | 842.5 | 762 | 18 | 734 | 1740 | 3480 | 64 |
| SRE105020C | 1048 | 1032 | 8 | 129 | 985 | 20 | 945.5 | 905 | – | 942.5 | 862 | 20 | 834 | 1750 | 3500 | 69 |
| SRE120020C | 1200 | 1184 | 8 | 148 | 1135 | 22 | 1095.5 | 1055 | – | 1092.5 | 1012 | 22 | 984 | 1760 | 3520 | 82 |